Annapurna Circuit Days 19-20: Ghorepani to Birethanti (THE END)
Day 19 April 10, 2018: Ghorepani (2874m) to Deorali Pass (3000m), distance: 2.5 miles (Happy Birthday to Us), duration: 1h 30m, elevation gain: 126m, ascended: 902 feet, descended: 902 feet, food: $44.20, lodging: $4.00 at Poon Hill Guest House, total distance to date: 146 miles
Day 20 April 11, 2018: Ghorepani (2874m) to Birethanti (1025m), distance: 10.5 miles, duration: 5h 15m, elevation gain: -1849m, ascended: 465 feet, descended: 6099 feet TOTAL DISTANCE: 156 miles
April 10, 2018: Ghorepani Day Trips to Poon Hill and Deorali Pass
Happy Birthday to Us (hubby and I share a birthday). What a glorious place to celebrate another year of living and a day of rest! The Rhododendrons in Ghorepani blossom annually in April and we had a spectacular gift from Mother Nature this year!
Caffrey woke up at 4:30 this morning, meeting our friends Mr. Kim and Paul for an early morning leg stretch up to Poon Hill. I snuggled into my sleeping bag and enjoyed several more hours of warmth (as did Paul's wife, Helen). The view from Poon Hill is supposed to be amazing when the weather cooperates. The guys enjoyed a lovely sunrise, but Dhaulagiri, the Annapurnas, and Machapuchare (the Fish Tail peak) hid shyly behind hazy clouds.
Before lunch, we strolled a little over a mile through dense, mossy-covered Rhododendron trees (yes, trees) to Deorali Pass. Vibrant pink and crimson blossoms covered the hillsides and Annapurna I teased us, appearing and disappearing behind the clouds.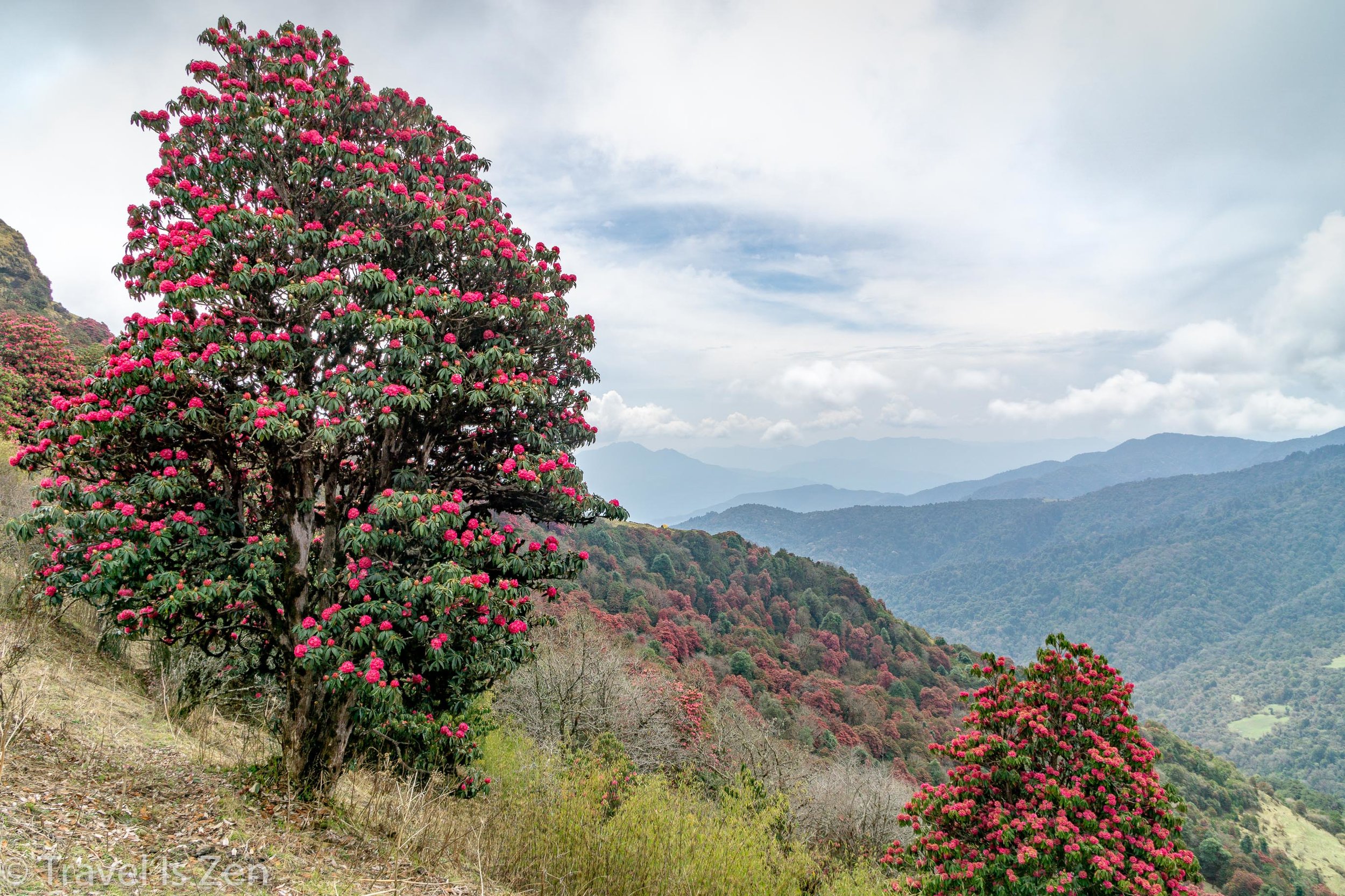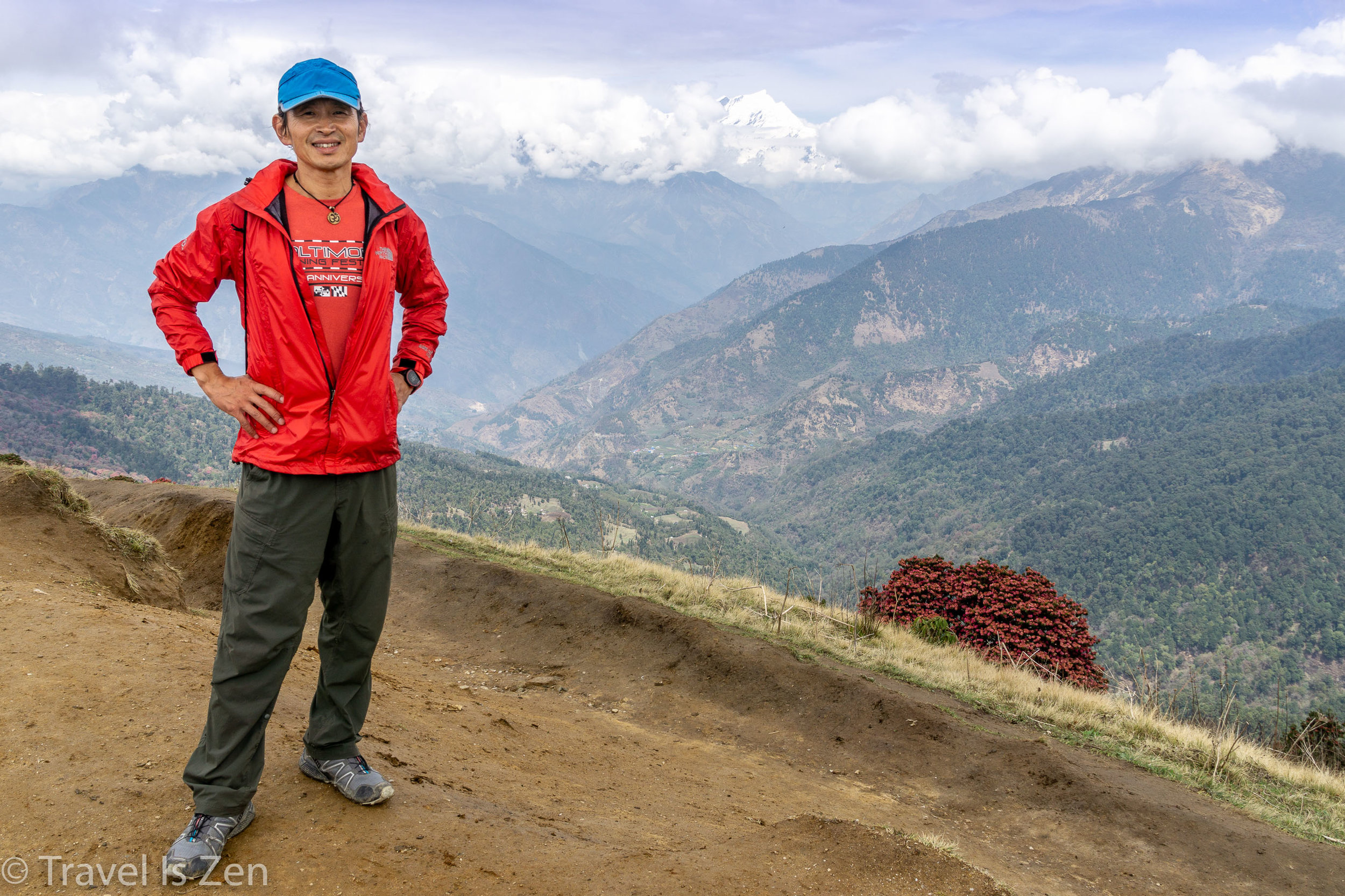 We returned to the inn in Ghorepani right before the afternoon rain and thunderstorm began. Our birthday gift was a BEAUTIFUL rainbow and nice long nap. #blessed #rainbows #AprilBirthdays #Aries
April 11, 2018: Ghorepani to Birethanti (Down, Down, Down)
Let's do this! Last day and final descent of our time on the Annapurna Circuit in 2018. As many stairs and meters as we climbed two days ago, we descended again today on the other side of the mountain...plus a little extra for fun. We started the morning in winter down jackets, which were shed by mile two. Layers and layers were shed as we descended. This section is the gateway to Annapurna Base Camp (ABC). We passed more ABC hikers today (going in the opposite direction, poor souls) than we saw on the entire Annapurna Circuit trek. Hundreds. And they looked very hot, irritable, and desperate -- kind of how we looked two days ago.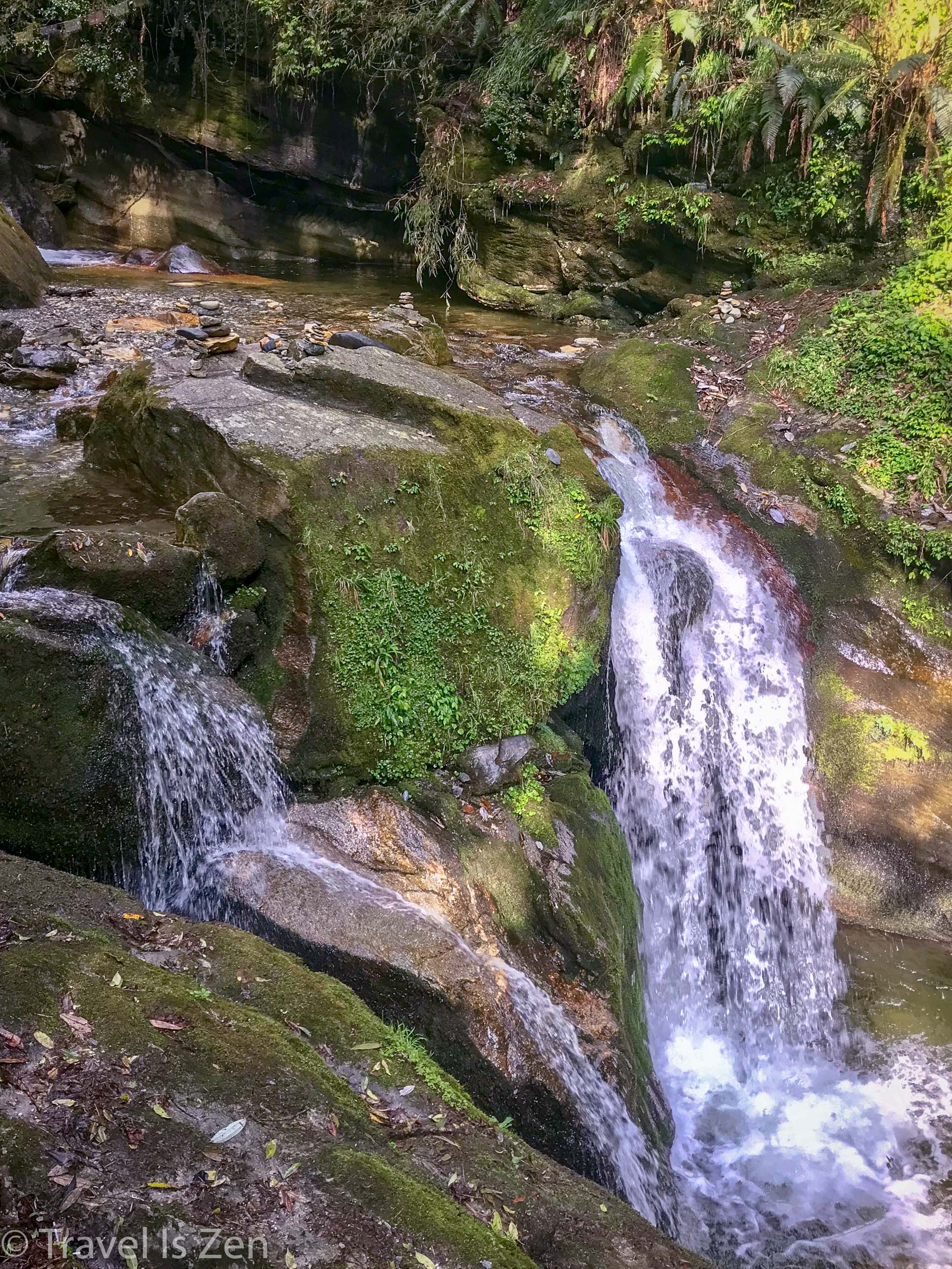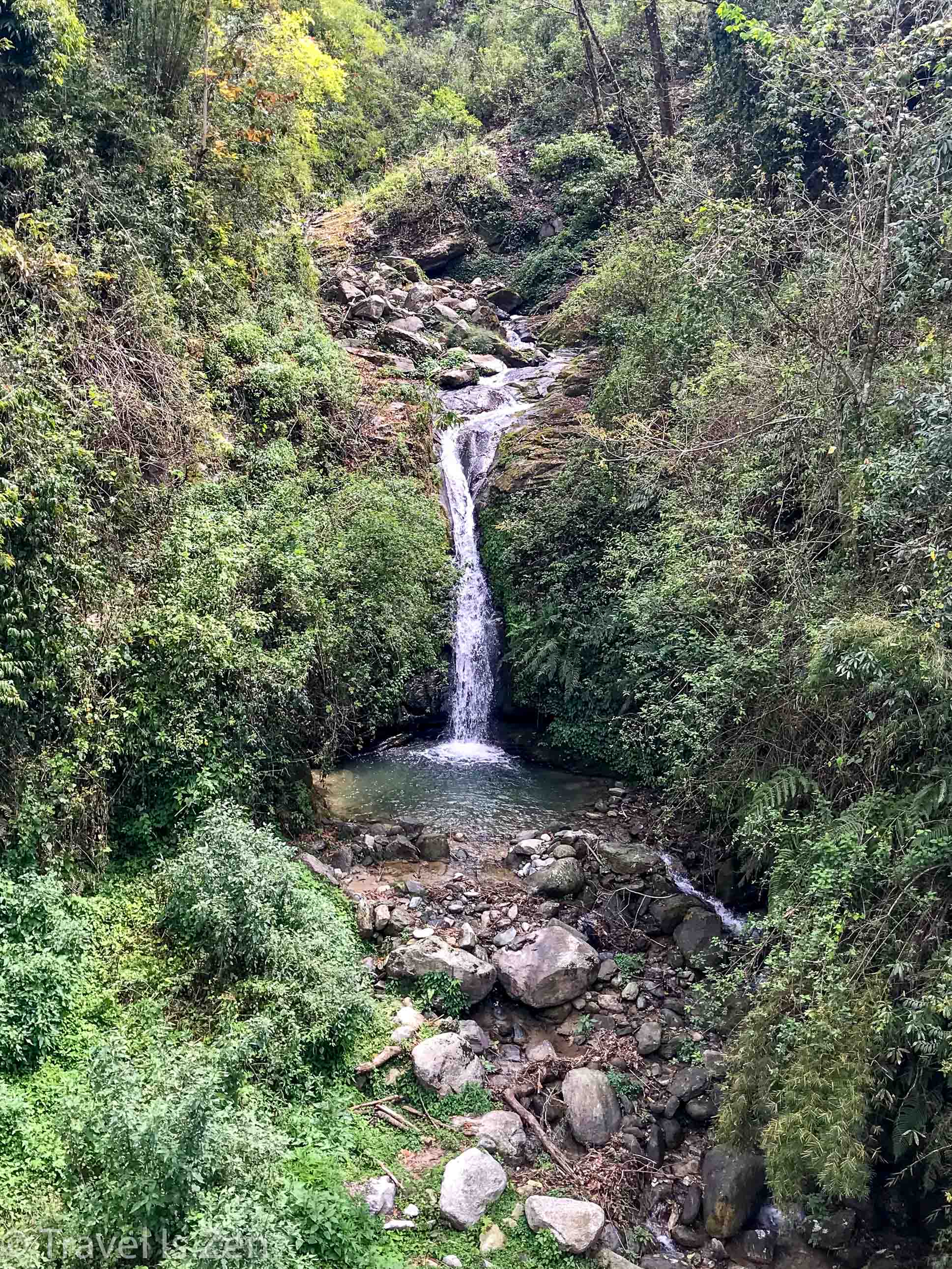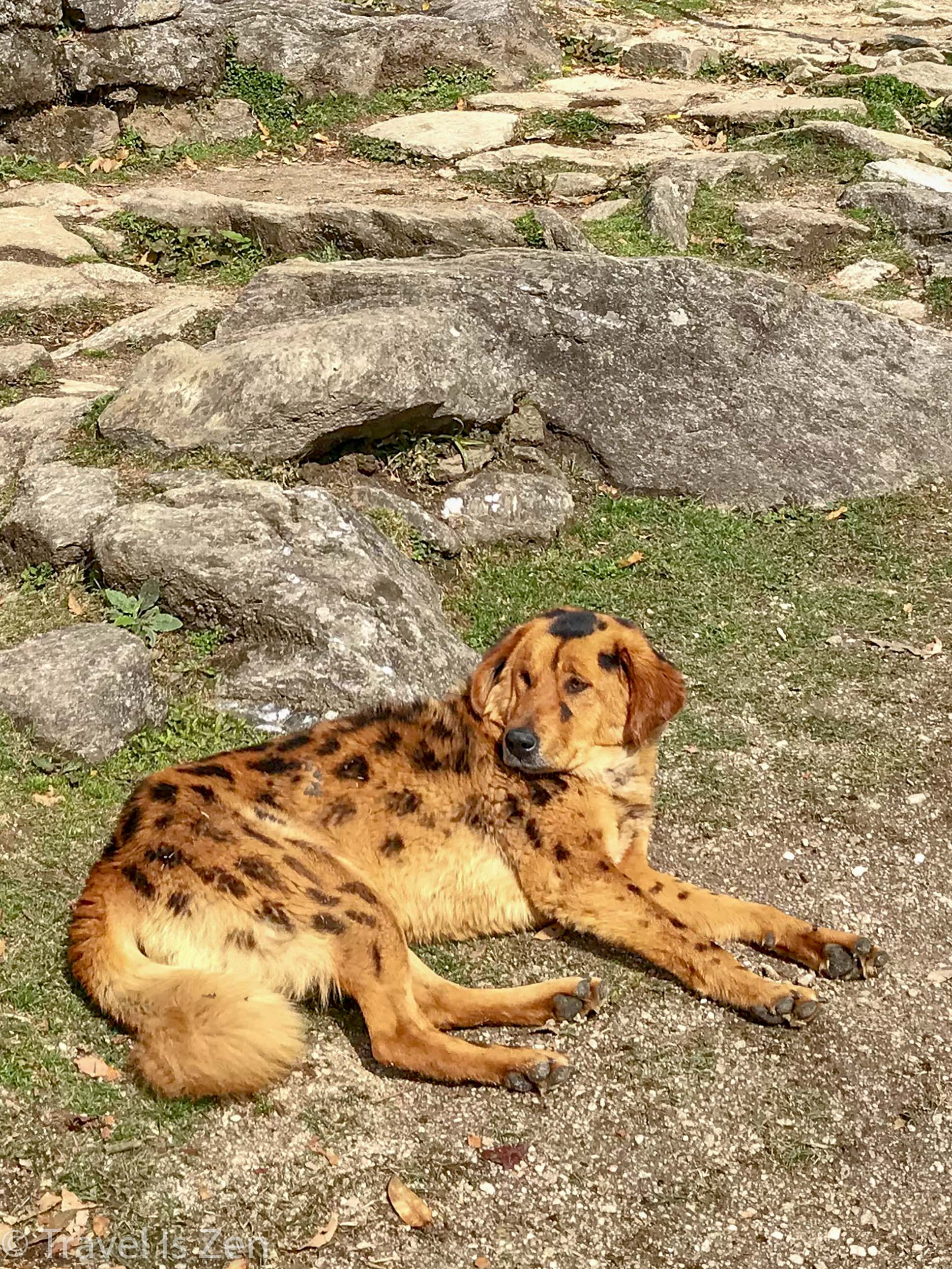 We strode down the steps through Ulleri and into Hille. The temperature warmed, the waterfalls grew more intense, the vegetation more lush. There were enticing opportunities to jump in, enjoy the icy stream, and spend the day listening to reggae and downing a cold beverage. We resisted. We were on a mission to finish today.
The "end" was a little anti-climatic. Most of the morning was spent descending thousands of knee-busting, rock-lined stairs. After lunch in Hille, we joyously connected with the new dirt road leading down to Nayapul. We passed through Birethanti and the final ACAP check point as grey clouds started to drip-drip-drip. We had planned to walk the final 45 minutes to Nayapul, but the drips were becoming more of a drizzle and an insistent taxi driver finally accepted our counter-offer fare to Pokhara. Next thing we knew, we were in the back of a taxi, watching the rain clouds gather force. We were done. Wow. We were done.
We spent the afternoon taking LONG HOT showers and then napped as a storm sang us a sweet lullaby from our soft bed in a semi-expensive hotel in Pokhara. Hike of a lifetime. Hike of a lifetime.