Annapurna Circuit Day 3: Chame to Upper Pisang
Day 3 March 25, 2018: Chame (2650m) to Upper Pisang (3300m), distance: 9.5 miles, duration: 4h 50m, elevation gain: 650m, ascended: 2611 feet, descended: 698 feet, food: $59.30, lodging: $0.00 at Trick Horse Hotel, total distance to date: 30.75 miles
Chame is the headquarters of the Manang district and a central marketplace in the region. We visited the old gompa (monastery) and spun the prayer wheels as we headed out of town on the dirt road this morning. Just after Talekhu, we chose the high trail recommended in our trusty guidebook, following the NATT sign off the dirt road and onto a soft path covered in pine needles. The extra climb was worth it for the waterfall views across the river. Past Bhratang, we encountered the imposing western rock face of the Paungda Danda mountain. Known as "Heaven's Gate", or Swarga Dwari, this enormous concave granite wall was once the bed of an ancient lake. The evidence of such massive natural forces still at work in the Himalayas is humbling!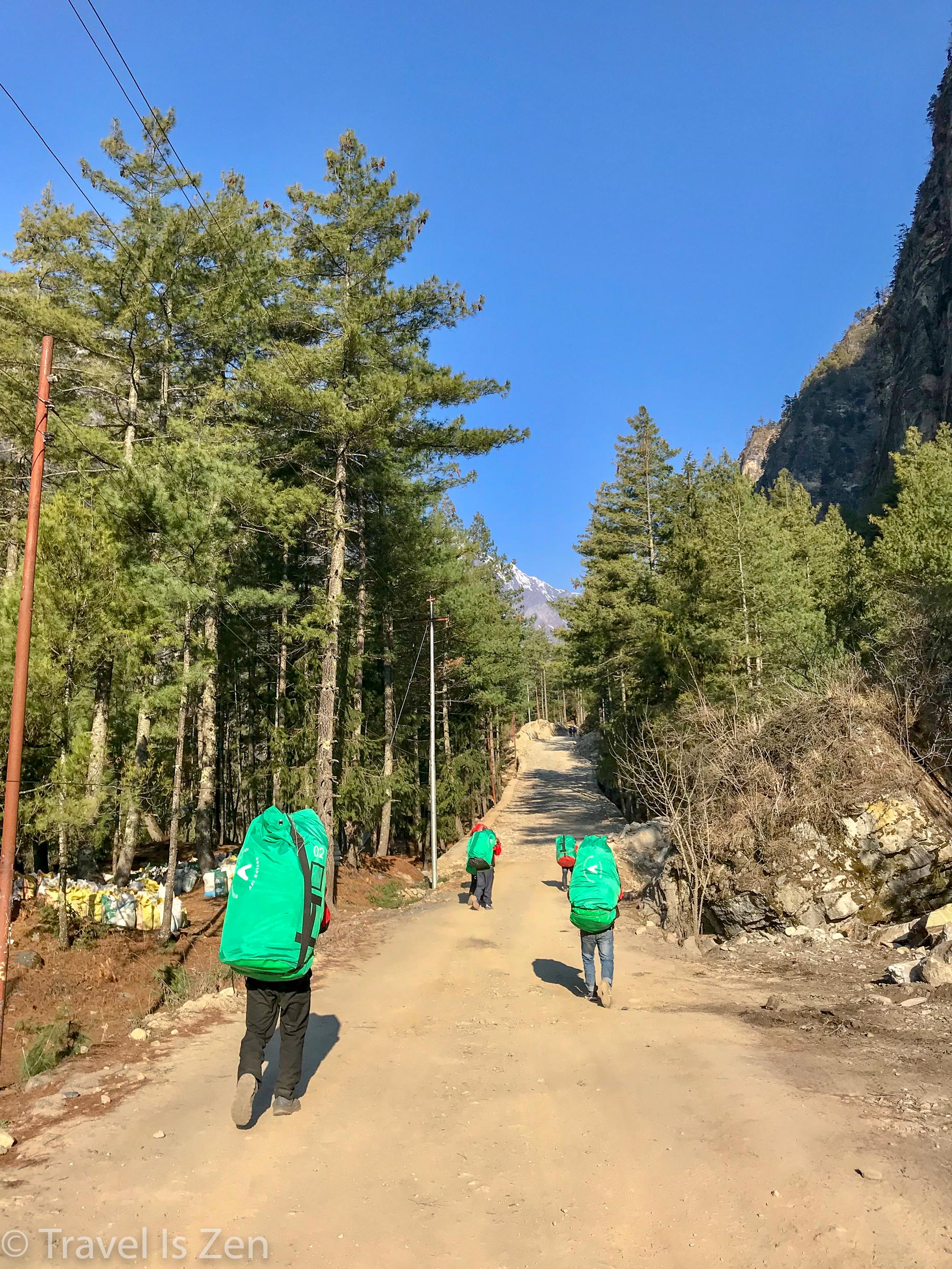 We had lunch in Dhukur Pokhari at another rooftop restaurant facing Annapurna II. In under an hour, the peak disappeared behind a swirling mass of clouds and fog. With the wind in our face, we walked across a flat, dusty plateau, watching yaks nibble on scrub pines and storm clouds darken.
Crossing this field, trekkers face a major decision point: take the dirt road through the valley to Lower Pisang or choose the more strenuous path to Upper Pisang to sleep at 3300 meters. The rule of thumb to avoid High Altitude Sickness is not to sleep more than 750 meters higher than the previous night. The altitude difference between Chame and Upper Pisang is about 650-700 meters. We were feeling fine, so we chose the high route. Be wise at this junction; later that evening, we met a woman suffering from High Altitude Sickness. It can be very serious!
We arrived in Upper Pisang at 2:00 p.m. and by 3:00, the wind was whipping rain sideways. By dinner, it was snowing and beginning to accumulate. We joined the international collective of hikers in the dining room of the Trick Horse Hotel. The power was out, so we sat around the wood stove, drinking hot tea, talking and laughing. There were folks from Denmark, Australia, Sri Lanka, and Germany... mostly Germany. It was nice to unplug and connect with people.