Annapurna Circuit Day 4: Upper Pisang to Ngawal
Day 4 March 26, 2018: Upper Pisang (3300m) to Ngawal (3680m), distance: 7 miles, duration: 4h 35m, elevation gain: 380m, ascended: 2020 feet, descended: 770 feet, food: $36.20, lodging: $3.00 at Royal Nyeshnyang Hotel, total distance to date: 37.75 miles
We awoke to a snowy landscape this morning. Icicles clung to delicate Spring blossoms and the hills were powdered with a white dusting. As the sun warmed the air, the clouds dissipated quickly and we had a full view of Annapurna II, Heaven's Gate (now covered in a blanket of white) and Lower Pisang village in the valley below.
The people of Upper Pisang built a beautiful gompa (monastery) above the village. The inn owner proudly told us how the community volunteered for work shifts to construct and paint the sturdy new Buddhist temple. Freshly painted in bold bright colors, it is indeed a work of love! We purchased a prayer flag as a donation, to be planted on Thorong-La Pass summit.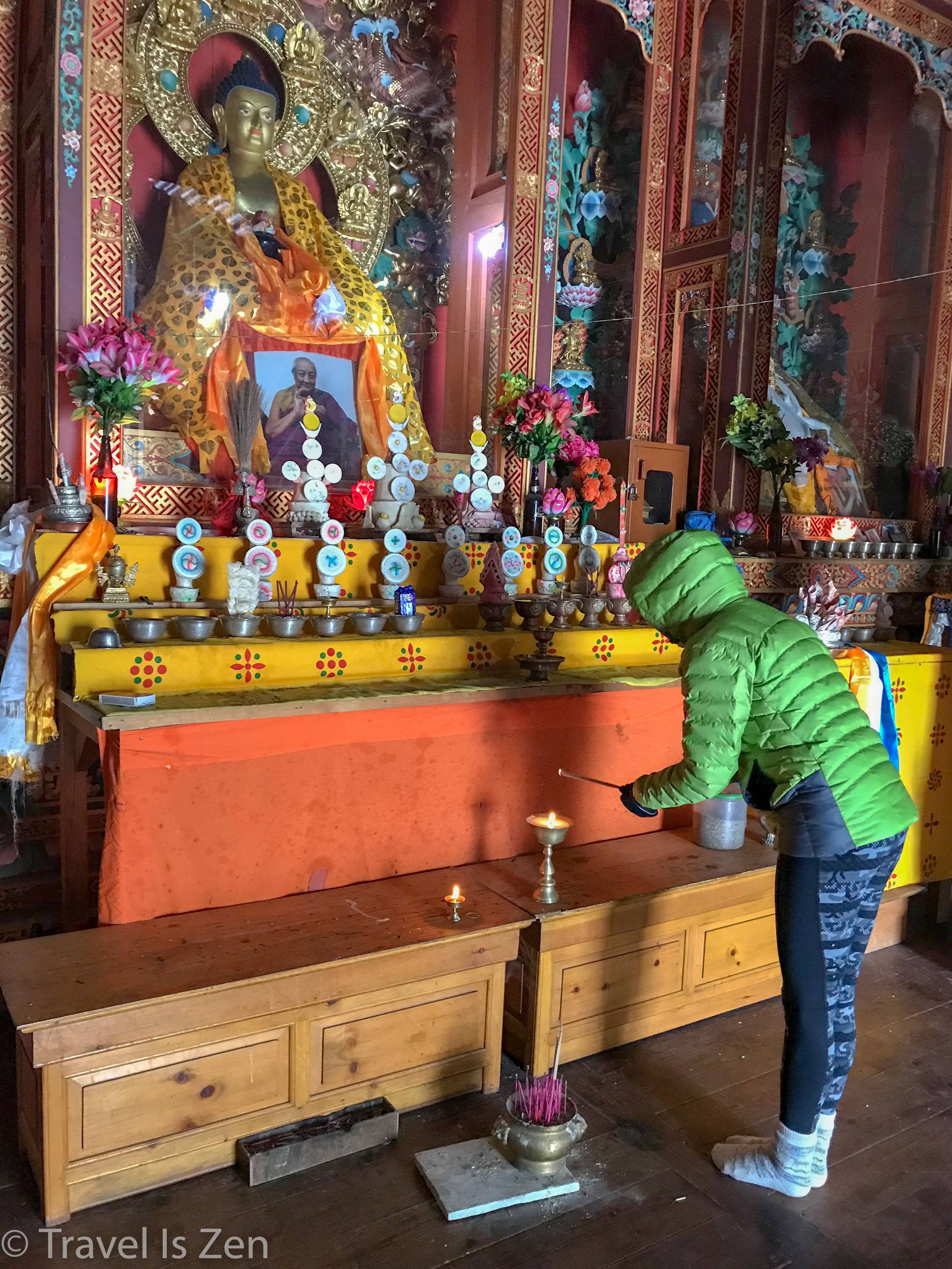 We could definitely feel the altitude as we hiked today. Above 10,000 feet (3050 meters), our breathing was shallower and we had to adjust our pace, especially on the inclines. We took a Diamox as a precaution and continued on the high route above the valley. On the outskirts of Upper Pisang, we crossed a suspension bridge and then stared UP at the prayer flags flapping in the breeze high above. We twirled the mani wheels, praying for a boost of energy and began the strenuous switchback climb to Ghyaru. I shed a tear at the top. That was a long, steep, challenging climb! But the reward in Ghyaru is a completely unobstructed view of Annapurna II, IV, and III...so close you feel you can reach out and touch them. Worth every drop of sweat, every calf flex. My god, it's a stunning view that no single photograph can adequately capture. This is the kind of view that inspires people to paint on a canvas large enough to convey the magnificence.